Pyeongchang 2018 round-up: what happened today at the Winter Olympics?
Comments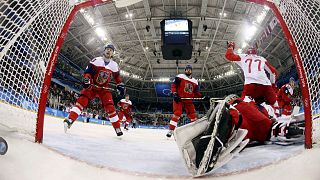 OAR's first gold
Fifteen-year-old Alina Zagitova won the women's figure skating competition, claiming the first gold for the Olympic Athletes from Russia (OAR) after executing every element of her jump-packed free skate.
Compatriot and training partner Evgenia Medvedeva was edged into second place.
Swiss take bronze in curling
The Swiss men's curling team beat reigning champions Canada 7-5 in a bronze medal match.
Canada had won the gold in men's curling at the last three Winter Olympics.
Netherlands takes speed skating gold
Dutch speed skater Kjeld Nuis of the Netherlands captured gold in the men's 1,000 metre competition, with a time of 1:07.95.
He was followed by Norway's Havard Lorentzen, at 1:07.99, and South Korea's Kim Tae-yun, at 1:08.22.
Canada skicross victory
Canada's Kelsey Serwa raced to victory in the women's skicross.
The 28-year-old pulled ahead in the second half of the race, beating compatriot Brittany Phelan and Switzerland's Fanny Smith.
"It is very surreal to be the best in the world at something you put your heart into," Serwa said.
Russia reaches hockey final
Russia defeated the Czech Republic 3-0 to advance to the men's ice hockey final.
The victory gives Russia its first chance at an Olympic gold medal in ice hockey for more than a quarter of a century.
Russian bobsledder tests positive for doping
Olympic bobsledder Nadezhda Sergeeva tested positive for a banned, performance-enhancing drug at the Pyeongchang Winter Olympics, the Russian bobsleigh federation reported Friday.
In a post on its official Facebook page, the federation said that the athlete tested positive on February 18, five days after a prior doping test returned a negative result for her.
Photo gallery
Hover over the images and click the arrow to explore the pictures.