Hope for opening of Prespa Lake Macedonian-Greek border
Comments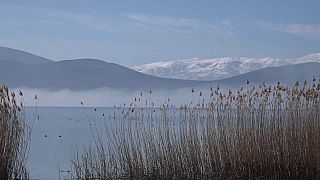 This is Prespa Lake. Not many lakes in Europe are shared by three countries. But Prespa is divided between Albania, the Former Yugoslav Republic of Macedonia and Greece. Unfortunately, the natural flow of the lake is blocked because the border, a rare left-over from the Cold War, is closed, hampering economic development in the region.
Local inhabitants now believe progress in Macedonian-Greek negotiations on solving the name issue will bring about the re-opening of the border.
"Here it is a dead end, people have left the place," says local inhabitant Boshko Dimovski. "The young have migrated elsewhere. I think we are forgotten by everybody even God himself.
"If this border opens then there will be some kind of movement of people. Even though there are not many left in the other part as well, the place will become more animated."
It's a 180 km drive to reach the first inhabited place on the other side of the border - the village of Agios Germanos.
The village is facing huge challenges given the current economic crisis in Greece.
Nikos runs a restaurant in the village and believes the opening of the border will increase opportunities for people on both sides.
"Prespa can't be divided into three parts, it's a lake. We can't stop water or air moving so why would we stop people from moving?" he asks. "I think it will be good for everybody, but I am afraid that in the first two or three years it will be difficult for all of us to find the right balance, to see how it will evolve for everybody. But if everyone co-operates it's going to be better for us all."
Euronews correspondent Borjan Jovanovski says the current talks between Greece and the Former Yugoslav Republic of Macedonia to find a solution to the longstanding dispute over the name could re-open the border.
He says this will open up the whole region to a European perspective.