Dozens dead after Peru bus plunges into ravine
Comments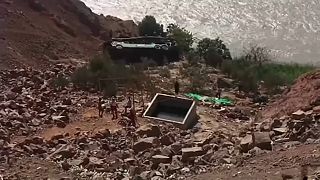 At least 44 people have died in Peru when a coach plunged some 100 meters into a ravine.
It's the second major bus crash in the country this year.
It occurred on a curve on the Pan-American Highway in the Ocona district.
A passenger list suggests at least 45 people had signed up for the journey but police say the number of dead and injured suggests more passengers had boarded the coach along the way.
Some 20 people are said to have survived.
Road accidents are common in Peru, where many highways are considered unsafe and bus drivers lack training.
Last month 52 people died when another coach collided with a truck and fell over a cliff