Willem Dafoe rewarded at Berlinale for life's work
Comments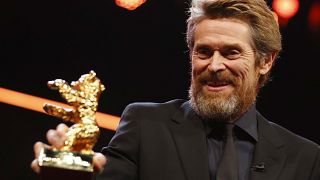 American actor Willem Dafoe has received an honorary Golden Bear award at the Berlinale Film Festival for his life's work.
His wife, Italian film director and actress Giada Colagrande, was on the red carpet on Tuesday evening to help him celebrate the accolade.
And so was Euronews.
Asked by us whether the special prize made him feel old, Dafoe replied:
"No not at all. I have got plenty more to do and I am happy to receive it and I am happy to be here."
As well as working with film directors like Oliver Stone, Martin Scorsese and Wim Wenders, Dafoe has also been active in the theatre. And he is nothing if not versatile!
"In over 100 movies, he has played good guys, bad guys, he has played Jesus Christ and a vampire," said our correspondent at the Berlin Film Festival, Wolfgang Spindler.
"And this year, he is also nominated for an Oscar as Best Supporting Actor in the film 'The Florida Project'. We wish him good luck!"