The Slovak town hoping to cash-in on Valentine's Day with special love bank
Comments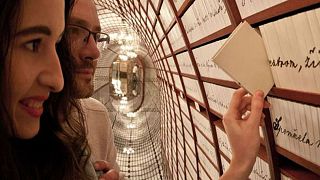 It's the little-known medieval town in Slovakia that is hoping to put itself at the heart of Europe's love map.
Banska Stiavnic was the home of Marina Pischlova, the subject of the world's longest love poem.
The epic 2,900-line work, written by Andrej Sladkovic and published in 1846, tells of the doomed tale of love between the Slovak poet and Pischlova.
Now the house where Pischlova lived in Banska Stiavnic, situated 140 kilometres north-east of the capital Bratislava, is hoping to cash-in by winning the hearts of Europe's romantic couples.
It is home to the Epicentre of Love, an interactive exhibition inaugurated in December that is dedicated to the poem.
It includes a copy of Sladkovic's work, his library and a love meter, supposed to measure the strength of couple's feelings.
But it is the vault beneath the house that will be the main attraction for some.
The long tunnel is home to a "bank of love", which allows romantic couples to "deposit" mementoes of their devotion to each other.
"We will be back here, my fiance and I, in a few days and will deposit the movie tickets of our first meetings," said Dominika Hrabusova, 24, told AFP news agency.
Couples will only be allowed to make deposits on certain days of the year, with the next one scheduled for Valentine's Day (February 14).
The poem, which has been translated into German and French, was certified as the longest-ever by the World Academy of Records, the main rival of the Guinness Book of Records.