Two police officers killed in Ohio shootout
Comments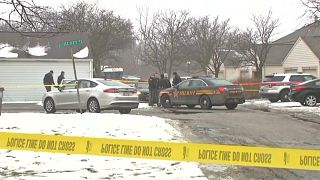 Two police officers were shot and killed while responding to a domestic disturbance in Columbus, Ohio, on Saturday.
A suspect was wounded and is in custody, officials said, although information on the suspect's identity or condition was not released.
Eric Joering, 39, was killed at the scene while 54-year-old Anthony Morelli died from his wounds after being taken to hospital.
Joe Morbitzer, a police chief in the suburb of Westerville, said they were fired upon as they entered an apartment responding to a 911 call.
"First of all, true American heroes, two gave their life today responding to calls of assistance out of a potential domestic situation," Morbitzer said.
Police cars lined up outside a hospital at Ohio State University in honour of their colleagues.
U.S. President Donald Trump wrote on Twitter, "My thoughts and prayers are with the two police officers, their families, and everybody at the @WestervillePD."
The latest fatalities bring the number of law enforcement officers killed on active duty in the United States this year to 14.