Brexit deal in doubt over UK demands
Comments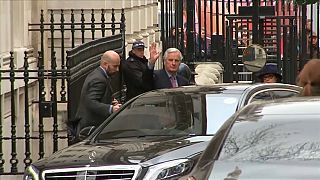 The EU's chief negotiatior, Michel Barnier, says agreement on a transition period after Brexit has been thrown into doubt by the UK's demands and is not a 'given'.
Barnier's tough words are music to the ears of anti-Brexit supporters many of whom want a second referendum on leaving.
This is the position of the newly-launched centre left Renew party born out of what it says is a loss of confidence in the country's long-established Labour and Conservative parties.
Sandra Khadhouri is a co-founder of the party. She says many people are unhappy with how the government is handling negotiations and could be ready to re-think the whole Brexit issue.
"I think it's inevitable that the false promise of Brexit would actually come to light and the fact that we cannot have our cake and eat it," she says. "And I think those contradictions are coming to light and the people are realising that. I think this is what we are seeing. The tide is turning here and what we want to say to people is now we know more, we can make a different decision."
Pro-Brexiteers remain convinced the process is unstoppable. UKIP strongly supported leaving the EU and UKIP MEP Ray Finch believes even with a second referendum the result would be the same.
"It's entirely possible it could happen." he says. "But even if it does, the British people will see through this and they'll say 'why won't you listen to us, why won't you believe us. we want a free and independent United Kingdom and you and the rest of your global elitist friends can go away'."
Renew's launch has drawn comparison with President Macron's En Marche party with its people-centred approach. But victory for the moment appears a long way off.