Norwegian Olympics team orders 15,000 eggs by mistake
Comments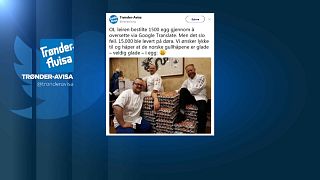 Norway Olympic team has been left with egg on its face after ordering, well, too many eggs!
Speaking to reporters Norway's chef de mission Tore Ovrebo said, "They will probably use them I guess and I don't know, maybe the people that supplied us with them will take them back I don't know. It's not a big issue."
"The aim is to have fun and be as good friends when we go back as when we came here. In the meantime we are hoping for 30 medals.
"So that's the aim and we want to be among the top three nations and that normally means that we need to have 10 gold or more so that's the aim."
Scrambled… fried or poached… Norway's chefs will have to be inventive with the delivery which works out at 124 eggs per team member.
In a tweet the team said:
"The Olympic camp ordered 1,500 eggs through translating via Google translate. But it failed. 15.000 was delivered to the door. We wish you luck and hope that the Norwegian gold hopes are very happy – very happy – in the egg"