Zuma on the brink as presidential speech is postponed
Comments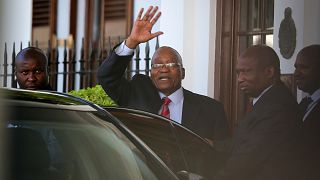 Pressure grew for South Africa's Jacob Zuma to quit on Tuesday, as the speaker of parliament announced that the embattled president's state of the nation address, scheduled for Thursday, will be postponed.
Speaker Baleka Mbete said she met Zuma, who was already writing to parliament to ask for the postponement of his address.
"A new date for the state of the nation address will be announced very soon," Mbete said.
The opposition parties had demanded that the speech be postponed until Zuma was removed from the leadership.
Zuma has survived several attempts to oust him in the past but this time much of his own party wants him out.
"He is under a great deal of pressure to step down, from the opposition parties but especially from within his own African National Congress Party," Andrew Meldrum, Acting Africa Editor of Associated Press told Euronews.
"And there were weekend meetings by the leadership and Jacob Zuma responded that he was staying. But now there are new meetings of the NEC, the top leaders of the African National Congress, to call for him to step down."
The ANC has called a special meeting of its decision-making National Executive Committee (NEC) for Wednesday in Cape Town, at which analysts have said some members of the party could call for Zuma to resign.
His presidency marred by corruption scandals and economic decline, Zuma has been in a weakened position since he was replaced as leader of the ANC by Deputy President Cyril Ramaphosa in December.
The influential Nelson Mandela Foundation has added its voice to calls for Zuma to stand down. 
Tensions over his future have already spilled onto the streets.
Facing a no-confidence motion in parliament set for Feb. 22, the fear is that Zuma and his supporters may not go quietly.
with Reuters