Judge upholds Assange's UK arrest warrant
Comments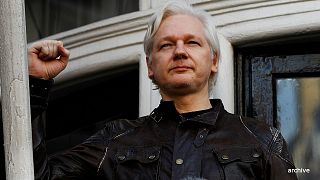 After rejecting Julian Assange's bid to have a UK arrest warrant dropped on Tuesday, a UK judge will give a ruling on February 13 on a separate attempt to have the case against him dismissed on public interest grounds. 
Assange's legal team is now arguing that British authorities should "stop pursuing him for breaching bail terms because it was not in the public interest."
Assange fled to the Ecuadorian embassy to avoid extradition to Sweden to face an allegation of rape, which he denies. The investigation has since then been dropped. 
To some, 46-year-old Assange is a cyber hero who exposed government abuses of power. To others, he is a criminal who undermined the security of the West by exposing secrets.
Ecuador said this month it had given citizenship to Assange, hours after the British government refused a request for him to be given diplomatic status, which could have given Assange immunity from arrest should he try to leave the embassy.
Assange's supporters say his health has deteriorated significantly during his years living in the embassy and the court has heard about Assange's depression, dental, and shoulder problems. 
His lawyers had argued that because Sweden ended its rape investigation against Assange, there was no longer any justification for the arrest warrant against him. Judge Emma Arbuthnot rejected their reasoning.
"I am not persuaded that the warrant should be withdrawn," said Arbuthnot, the chief magistrate of England and Wales, during a hearing on Tuesday at Westminster Magistrates Court.
Assange has been holed up in Ecuador's London embassy for more than five years.
Why did he fear being sent to Sweden?
Assange had feared Sweden would hand him over to the United States to face prosecution over WikiLeaks' publication of a large trove of classified military and diplomatic documents - one of the largest information leaks in US history.
Assange tweeted that the court had adjourned his arrest warrant case and that judgment would take place on February 13, 2018.