Merkel and Schulz fail to produce coalition deal
Comments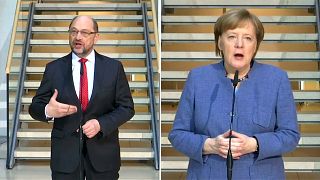 German Chancellor Angela Merkel's conservatives and Martin Schulz's Social Democrats have failed to conclude coalition negotiations in time to meet a self-imposed Sunday deadline.
Both leaders did however say progress had been made and talks will continue later today.
The parties agreed on Sunday to invest more than 2 billion euros in social housing by 2021, to spend up to 12 billion euros on expanding broadband and to channel 33 billion euros to municipalities for various projects including childcare.
They have ticked off migration, energy and agriculture in recent days too but the most contentious issues -- labour rules and healthcare -- have yet to be resolved.
More than four months after a national election, Europe's largest economy and major power-broker is in political paralysis, causing concern among investors and EU partners.
The SPD are hoping to renew their "Grand coalition" with Merkel's Christian Democrats which has governed Germany since 2013