IOC to review overturned ban on Russian athletes
Comments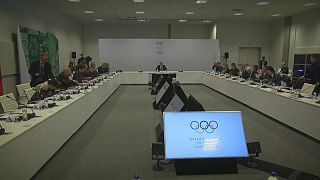 The International Olympic Committee could appeal a decision by the Court of Arbitration for Sport to overturn Olympic doping bans for dozens of Russian athletes.
The athletes were given lifetime Olympic bans for doping violations at the 2014 Sochi Games.
Mark Adams of the International Olympic Committee (IOC), said a panel will review each case and decide if they will be able to compete.
"Those 15 names will be given to the invitation review panel, chaired by Valerie Fourneyron, former French Sports Minister, and she will review those in the light of this CAS decision," he said.
Last week, the CAS said that in the 28 cases, the sanctions imposed by the International Olympic Committee on the athletes had been annulled due to insufficient evidence.
Russians are taking part in a nationwide action in support of Russian athletes heading for the Olympics.
The action, under the banner "Russia in my heart", includes concerts from Moscow to Vladivostok