British MPs approve 'baby leave' proxy voting system
Comments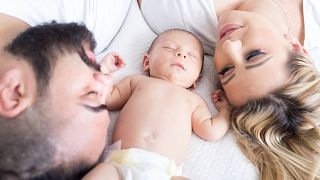 British politicians have voted Thursday to introduce 'baby leave': a proxy voting system that would allow Members of Parliament (MPs) that are new parents to nominate another MP to vote on their behalf.
It comes as part of a drive to modernise Parliament.
Labour and Conservative members Harriet Harman and Maria Miller proposed the system to allow MPs who have had a baby or adopted a child to vote on policy while caring for their infant at home.
In a briefing note, they said: "We set rules for people outside the house to take maternity, paternity and shared parental leave, and yet we ourselves have no system."
The proposal faced no opposition and was passed by acclamation on Thursday.
It will now be examined by a Parliament committee as to how it will be implemented.
While debating the proposal in the House of Commons, Harman said she was inspired by changing attitudes among male members.
"Having talked to colleagues in all parts of the House, I know that fathers feel as strongly as mothers about this issue," she told the House.
"That is a real change. It is really gratifying to me to see younger men who are determined to be not only excellent Members of this House but sharing parents and responsible fathers who do not see their baby just as their wife's business.
"Most wives now work, and their husbands in this House want to support them in that."
But reservations about the concept of proxy voting in the Commons were also raised, as members typically vote in person.
"Members of Parliament are elected by their constituencies as individuals, so it is implied upon their election that their votes cannot be transferred to another MP," said Conservative member Andrea Leadsom, adding: "The appointment of a proxy voter could be perceived as a reduction of personal accountability."
At present, MPs who want to spend more time with their newborns can arrange to be "paired" with an MP from an opposing party who agrees to abstain from voting. But pairings would not usually apply to critical votes, such as no-confidence motions.