Irish government to draw up abortion referendum bill
Comments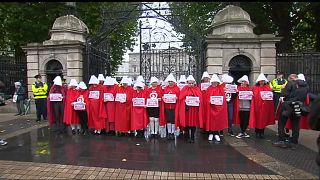 The Irish government meets today with a tide turning in the country and campaigners claiming once deep-seated views on abortion are starting to soften among the majority.
Ministers decide on Monday how best to go about a referendum vote on the subject that will ask the Irish people if the constitution's eighth amendment should be abolished.
Prime Minister Leo Varadkar has already announced he will campaign for a "yes" vote, but he leads a coalition and may find he does not have unanimous support at the cabinet meeting. His own party is split on the issue.
Ireland voted in a 1983 referendum to enshrine in the constitution "the equal right to life of a foetus and the mother during pregnancy". In effect, it bars almost all Irish abortions, even in some life-threatening situations.
Opinion polls suggest that society is as split as the politiicans, and the result too close to call.