Economic optimism across Europe
Comments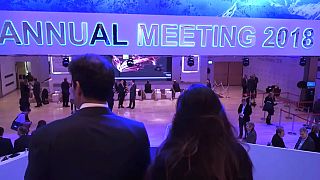 Chief executives are more optimistic about the economic outlook than they've been for years.
Although anxieties are rising about geopolitics, cyber threats and terrorism, a survey of nearly 1,300 CEOs found that 57 percent expect global growth to improve in 2018, almost twice the level of last year and the largest increase since the survey began in 2012.
Werner Hoyer, President of the European Investment Bank, was upbeat about the bloc's future,
"I must say this was from a European point of view, the best Davos we have ever had. At least for the last 10 years. The last couple of years Europe was inward looking. We were busy with our own problems. Others looked at us with sorry or concern. This year they ask questions like, 'what should we do in the world'?"
But even if there is a lot of optimism, there are still dark clouds looming over the bloc which have the potential to undo all of the economic progress made.
"I think we should not put Brexit into the centre of all our deliberations, but we should be very clear, this will cost dearly. Everybody. It's not something somebody could win from, we all will lose. Particularly the people of the United Kingdom I'm afraid."
That isn't the only challenge though. The euro rallied 5% against the dollar in recent weeks, putting pressure on the European central bank's efforts to stimulate price growth.