Trump says he's willing to testify in Robert Mueller's Russia probe
Comments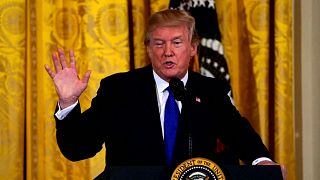 It appears that justice department special counsel Robert Mueller may get to question the president as part of his probe into alleged Russian meddling in the 2016 US election.
It follows remarks made to journalists by Donald Trump that he is now ready and willing to be interviewed under oath in the investigation he has previously described as a "witch hunt".
The interview could according to Trump happen within weeks:
"I'm looking forward to it actually," President Trump told reporters. "There's been no collusion whatsoever. There's no obstruction whatsoever. And I'm looking forward to it. I do worry when I look at all the things that you people don't report about with what's happening. You take a look at, you know, the five months worth of missing texts, that's a lot of missing texts. And, as I said yesterday, that's prime time. So, you do sorta look at that and say 'What's going on?'"
Trump was referring to the revelation that the FBI "failed to preserve" five months worth of text messages exchanged between Peter Strzok and Lisa Page, the two FBI employees who made pro-Clinton and anti-Trump comments while working on the Clinton email and the Russia collusion investigations.
US Attorney General Jeff Session last week became the first member of the Trump cabinet to be questioned.
So far four people have been criminally charged as part of Mueller's investigation.
Michael Flynn, the president's former national security adviser, pleaded guilty to lying to the FBI about a meeting with a Russian ambassador.
Former Trump campaign manager Paul Manafort has been charged on 12 counts, including conspiring to defraud the US in his dealings with Ukraine, and conspiracy to launder money.
Manafort's business associate Rick Gates was also charged with conspiracy to launder money.
A third adviser to the campaign - George Papadopoulos - pleaded guilty to lying to the FBI.
It's been confirmed that sacked FBI Director James Comey has also recently been interviewed. After Comey's accusation in June about the circumstances of his firing, Mueller is thought to be investigating whether when Trump was attempting to obstruct justice.
US intelligence agencies have concluded that Russia interfered in the 2016 election campaign using hacking and propaganda to try to tilt the race in Trump's favour. Russia has denied it. Trump has denied collusion with Russia.