Brazil awaits Lula conviction ruling
Comments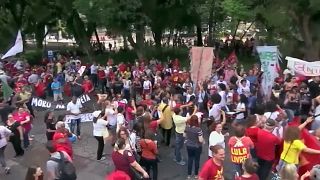 In Brazil hundreds of people have turned out to show support for former president Luiz Inacio Lula da Silva.
He is about to hear whether magistrates are going to uphold his corruption conviction..
His supporters included impeached president Dilma Rousseff who said, "Brazil would be ungovernable if the court decision went against him". It would mean he could not run in an October election.
Addressing the crowd Lula said:
"People must understand that I am not here worried about myself. I am worried about what's happening with the Brazilian people."
Lula is Brazil's most popular leader and currently the election front runner but his case has polarised the country with critics wanting him jailed.
Lula was sentenced in July to nine-and-a-half years behind bars on charges of corruption and money laundering.
Judge Sergio Moro ruled that construction company OAS had prepared and renovated a beachfront apartment in the city of Guaruja that was intended for da Silva.
The apartment was allegedly to be payment for favours that included contracts with state-run oil giant Petrobras.
Da Silva denies owning the apartment, saying he never had a key to it, never slept there and visited it only once.
It was part of Brazil's huge "Car Wash" graft scandal.