The remarkable athlete swapping taekwondo for skiing to feed his Olympic habit
Comments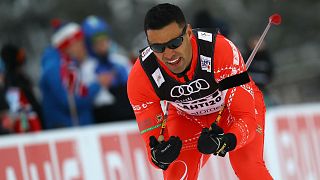 Meet the athlete who enjoyed Brazil so much he taught himself a new sport to get back to the Olympics in double-quick time.
Pita Taufatofua, who represented Tonga in taekwondo at the 2016 Rio Olympics, has switched sports to compete in South Korea next month.
The 34-year-old, who's oiled and muscular body attracted attention during the opening ceremony in Brazil, has become a cross-country skier.
He qualified on Saturday (January 21) for the Winter Olympics 2018 in Pyeongchang, which runs from February 9-25.
Taufatofua, whose tropical homeland in the southern Pacific Ocean is alien to snow, had barely set foot on skis when he announced his decision to take up the sport in late 2016.
He said his road to South Korea had been a struggle and his triumph in the final qualification race in Iceland a miracle.
"In all, it's been 10 weeks that I've been on the snow," a beaming Taufatofua told the Olympic Channel during a Facebook Live.
"Before coming to Iceland, I had participated in seven races and, each time, I failed. I did my best but I fell short each time.
"And I thought there is one race left and it's at the end of the world. I thought I had to give it my all, it was a grave or glory race and I gave it absolutely everything.
"It's so much relief off my shoulders [to have qualified]. Everything this year has been a sacrifice and I put in so much hard work."
Taufatofua said he had also lost 15 kilograms to make the transition between sports and that the commitment had left him in the "worst financial position ever".