New Zealand Prime Minister Jacinda Ardern announces she's pregnant
Comments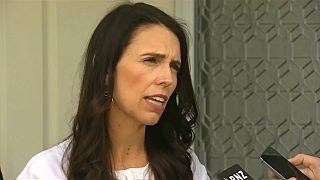 Jacinda Ardern discovered she was pregnant just six days before learning she was to become the next prime minister.
"I'm not the first woman to work and have a baby. I know these are special circumstances but they'll be many women who will have done this well before I have," Ardern told reporters as she stood outside her home with her husband Clarke Gayford by her side.
After giving birth she will take six weeks off work, although women in New Zealand are allowed to take 16 week's paid leave if they want and up to a year of unpaid leave – as long as they've worked for their employer for a year.
Gayford will be a "stay at home dad" but will try to accompany her on some of her work trips, Ardern said.
If she does decide to breastfeed she could follow a path that has been carved out by female politicians before her who have made powerful feminist statements by breastfeeding in their parliaments.
In June last year Australia's Green Senator Larrisa Waters addressed parliament with her baby at her breast.
But it's taken a long time to be accepted in Australia - back in 2003 an MP was barrred from addressing parliament whilst breastfeeding.
In October it was the turn of Icelandic MP Unnur Brá Konráðsdóttir and other MPs in Italy and Britain have breastfed whilst parliaments were in session as rules have been updated.
Sexist attitudes to women in politics in New Zealand remain painfully obvious.
Just hours after being elected the leader of the Labour party last August, a TV anchor asked Ardern if she'd made "a choice yet between having babies and having a career".
Her reply, that the question was "totally unacceptable in 2017", then went viral across social media.
And on Thursday she delighted many people with her reply when asked how she coped with forming a government whilst also suffering from morning sickness: