Danish inventor charged with journalist's murder
Comments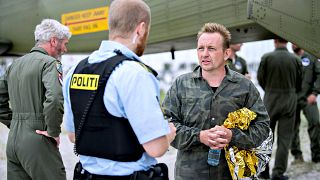 Copyright

Scanpix Denmark
Danish inventor Peter Madsen has reportedly been charged with murdering Swedish journalist Kim Wall.
He has also been charged with the indecent handling of her corpse.
Danish Prosecutor Jakob Buch-Jepsen revealed the news, describing the case as "very unusual and extremely disturbing".
He claimed that Madsen either cut Wall's throat or strangled her.
The 30-year-old writer vanished off the Copenhagen coast on the night of August 10 after visiting Madsen's private submarine for a story.
In the following days and months, parts of her body and clothing were found and recovered by police divers.
Madsen claims Wall died accidentally inside the submarine while he was on deck. But he admitted to throwing her body parts into the sea.
The trial has been set for March 8 and a verdict is expected on April 25.