'This has to stop': Polish MEP threatens legal action against vice president over Nazi insult
Comments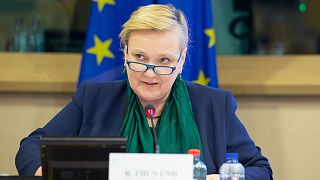 A Polish MEP says she is pursuing legal action against the vice president of the the European Parliament after he likened her to a Nazi collaborator, as tensions between Poland's ruling party and the EU continue.
Roza Thun of Poland's opposition Civic Platform (PO) party told Euronews that recent comments about her by Ryszard Czarnecki, a rival Polish MEP from the ruling Law and Justice (PiS) party and vice president of the European Parliament, had crossed "all boundaries."
Earlier this month, Czarnecki likened Thun to a "szmalcownik," a pejorative Polish term used to describe Nazi collaborators from the Second World War.
When questioned about the remark in a radio interview the following day, he refused to apologise.
Thun said the choice of insult had shown "incredible ignorance of history" and was particularly concerning because it had been made by someone holding such a senior position in the European Parliament.
"The issue is not about me personally. I have a thick skin and, unfortunately, I have heard many insults and attacks in my life targeted against me or my family," she said.
"The real problem here is the level of public debate and the hate speech that is being used by a person that formally represents the European Parliament as a vice president of our chamber. This has to stop."
The politician told Euronews it was wrong that someone like Czarnecki was representing one of the largest and most important EU institutions, as she announced plans for legal action through the Polish courts.
Thun spoke out about the remark after leaders of the four largest factions in the European Parliament co-signed a letter to President Antonio Tajani calling for Czarnecki's dismissal earlier this week.
"It is unimaginable that with these statements and attitudes to colleagues Mr Czarnecki continues to represent as Vice President the Parliament and you personally," they wrote.
The row comes amid rising tensions between the Polish government and the EU.
In November, Tajani said he would ask Poland's prime minister to ensure the security of Polish MEPs following a far-right protest that included a symbolic hanging of several Civic Platform politicians.
The following month, the European Commission took the unprecedented step of triggering 'Article 7' disciplinary measures against Poland over its controversial judicial reforms.
Thun said Czarnecki's remarks were made in an atmosphere of "anti-European propaganda" being spread by the ruling party and government-aligned media outlets.
"For me, the affairs of Poland and the EU are inseparable; this is our one, common cause. And the narrative that Mr. Czarnecki employs with this 'reporting to foreign powers' is absurd," she explained.
"Poland is the fifth largest country in the EU after Brexit, and we should be one of the EU's superpowers. There is no such thing as 'them and us', we are a unity with EU."
Czarnecki and the PiS did not respond to requests for comment.