It's not just you: Why New York City airports really are that bad
Comments
By Jason Rabinowitz with NBC News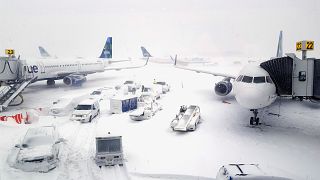 -
Copyright

Rebecca Butala How Getty Images
New York's John F. Kennedy Airport (JFK) isn't the busiest airport in the world, nor is it the largest in terms of overall size or terminal size. But what JFK lacks in size or passenger flow, it makes up for in prestige. Or at least it used to. Airlines from around the world would go out of their way to operate flights to JFK, as this was seen as a mark of honor.
These days, any regular traveler knows full well to avoid JFK or its sister airports LaGuardia and Newark. Or at least, they should. Chronic delays and cancellations, dilapidated and isolated terminals, poor connectivity to the city's public transit system and long lines are just some of the problems presented by New York's airports. Once Mother Nature decides to join the party — as she did quite forcefully during the recent "bomb cyclone" storm — New York's airports simply fall apart.
One of the biggest drivers behind JFK's high delay and cancellation rate has little to do with the airport itself. New York City's airspace is one of the most complex and congested in the world. With JFK, LaGuardia and Newark all in such close proximity, along with smaller airports such as Teterboro and White Plains, air traffic controllers have to carefully guide aircraft to each airport while making sure they never conflict with each other. The slightest bit of unfavorable weather can throw the entire region into air traffic control chaos by dramatically reducing the number of aircraft each airport can handle per hour.
While the obvious answer to fix New York's airspace may seem as simple as adding runways or creating more efficient flight paths — something the Federal Aviation Administration hopes to do with the advent of NextGen air traffic control — those options are no silver bullet.
New York City's airspace is one of the most complex and congested in the world.
"Any increase in capacity that any of those options might create would be minimal at best," explained Phil Derner, Jr, founder of NYCAviation.com, a respected New York City based aviation blog. "That newly found 'breathing room' would surely be filled with more flights in this high demand region." Derner suggests instead that the region look to build a more distant high capacity regional airport, an idea that so far has failed to gain much traction with politicians and the public.
JFK was once the worldwide standard for what an international airport look like. Born out of the need to relieve LaGuardia of its overcrowding, the Port Authority of New York and New Jersey in the early 1940s set out to build one of the first major airports of its kind. Rather than building one large terminal to be shared by all airlines, it was decided by the airlines that each airline was to build its own terminal and compete for the business of travelers on their unique architecture.
This pre-jet era decision gave JFK the fragmented, disconnected terminal structure it is still known for today. Despite terminals being demolished and rebuilt over the years, the core structure remained the same. Each passenger terminal remains it's own mini-airport within an airport, a decision that would set the airports inefficiencies in stone for decades to come.
The disconnected nature of JFK makes transferring between flights a potential nightmare for passengers. Whereas most modern airports are made up of one of two major terminals shared by all airlines, JFK sports six passenger terminals. Transferring between them is a confusing and time-consuming process. Forget about transiting to any of the major airports in New York City if you're re-booked, too. Doing so by public transit is a frustrating and time consuming process.
While a few terminals at JFK are operated and managed by a specific airline, the major international terminals are managed by independent management groups and have become jam packed with dozens of foreign airlines. JFK's Terminal 1 is co-owned by Lufthansa, Japan Airlines, Korean Air, and Air France, but is home to an ever increasing number of other airlines. Under the best-case scenarios, these terminals operate on a razor-thin time margin between flights and without a single gate to spare.
Once a single raindrop or snowflake falls in the New York area, however, the delicate operation falls apart. If departing flights are delayed from pushing back, incoming flights have no gate to pull into, stranding those passengers on the taxiways. Those delays add up quickly, and it can take days for a single aircraft to recover from its delay. It isn't uncommon for arrivals to wait several hours for a gate. Because there are so many airlines crammed into terminals, finding someone to help rebook after a cancelled or delayed flight can be nearly impossible.
With little hope for improvement on the horizon, the New York region should be avoided during any season when adverse weather conditions are possible. Unfortunately, that is just about the entire year. The political will to overhaul JFK into a more modern, functional and cohesive airport simply doesn't exist, dooming travelers to painful travel and giving New York black eye after black eye with each passing storm.
Jason Raboniwitz is an aviation geek specializing in passenger experience research, data analysis, and blogger about airlines, airplanes and air travel. He tweets at @AirlineFlyer.