Hands off Hong Kong, protesters warn China
Comments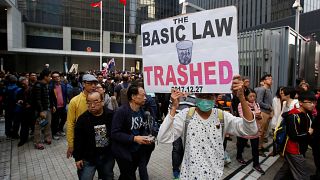 Thousands of people marched through Hong Kong on Monday (Jan. 1), calling for the city's autonomy to be safeguarded from what they say is growing pressure from Beijing.
Holding banners that read "Protect Hong Kong", protesters expressed worry over the city's future.
The former British colony enjoys rights and freedoms unseen in mainland China under a 'one country two systems' deal struck 20 years ago.
But the jailing of prominent activists and the removal of pro-democracy legislators from office last year has fueled fears this special status is being eroded.
Some high-profile democracy campaigners showed up, including student activist Joshua Wong, who was jailed in August over his role in the mass protests of 2014 but is now on bail pending an appeal.
"In 2018, it is time for us to recognise ourselves as avengers to win back the things (that have) been eroded by Beijing," he said.
Organisers said around 10,0000 people participated in the demonstration. Police put the figure at 6,200.
In a written response to the protest, the city's government said it respected the right of its people to take part in demonstrations and other forms of expression as guaranteed in the Basic Law, the city's mini-constitution.
The demonstration came just days after Beijing ruled that part of a high-speed rail station being built in Hong Kong would be regarded as mainland territory governed by mainland laws.
Earlier this year, a court removed four pro-democracy legislators from office for having turned their oath-takings into apparent protests against China.