French sailor smashes solo world record
Comments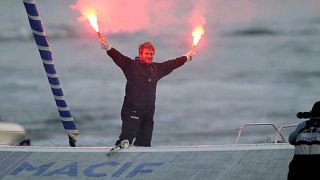 French sailor Francois Gabart has smashed the record for sailing solo around the world.
The 34-year-old circumnavigated the planet in just 42 days and 16 hours.
That is six days and 10 hours faster than the previous record set by fellow Frenchman Thomas Coville last year.
Such a feat was thought unthinkable by many pundits, but Gabart was able to clock up eye-watering speeds of around 35 knots in his trimaran yacht.
His success was partly down to luck with the weather, but it wasn't all plane sailing. Over the final few days the French skipper was forced to slow down to protect his boat in strong winds.
Gabart was welcomed back in the French port of Brest early on Sunday, the place where he set off on November 4.