Tour de France champion Chris Froome speaks out over positive drugs test
Comments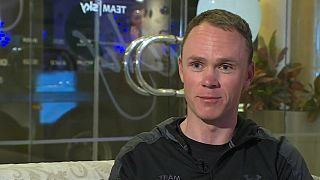 Team Sky cyclist Chris Froome says he didn't break any rules following a positive test for excessive levels of the asthma drug Salbutamol at this year's Vuelta a Espana. 
The British Tour de France champion said he understood why fans would be disappointed and shocked to hear about the test in light of recent doping scandals in cycling but that his issue was a 'different case'.
He said he is 'happy to help' cycling's governing body, the UCI, to find out exactly what happened.
"I mean, I've certainly shared everything I have with the UCI and told them exactly - I mean, I've got a very clear routine when I use my inhaler and how many times I use it and I've, I've given all that information to the UCI to help get to the bottom of this," said Froome.
Froome, who has not been suspended, said he had followed medical advice and taken an increased dosage of Salbutamol -- within the limits -- after his asthma worsened.
The UCI said on Wednesday the Briton's urine sample contained twice the allowed limit of Salbutamol, a legal drug, when he was tested at the Vuelta in September.
Froome, 32, risks missing next year's Tour de France, and losing his Vuelta crown, without a satisfactory explanation for the failed test during the Spanish race.