Kenyatta's inauguration marred by violence
Comments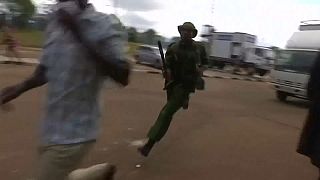 Months of political turmoil have ended in Kenya with the swearing in of President Uhuru Kenyatta for a second, five-year term.
But the inauguration was marred by violent clashes.
Hours before the inauguration was due to start, Kenyatta supporters filled the stadium where the ceremony was taking place while others frustrated at being kept outside, overwhelmed police and streamed in.
Security forces fired teargas to try and control crowds.
Kenyatta won a second five-year term in a repeat presidential election in October which was boycotted by opposition leader Raila Odinga, who said it would not be free and fair.
Riot police had sealed off an area where the opposition planned a rival gathering and fired teargas at people trying to enter.