Trump under pressure to condemn Duterte's war on drugs
Comments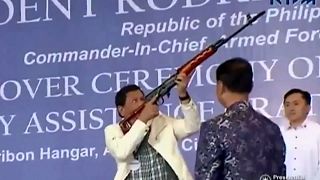 President Trump is under pressure to condemn the Philippine President's controversial war on drugs when the pair meet at the ASEAN summit in Manila.
At least 7,000 people have died in Rodrigo Duterte's crackdown, shot by police or vigilantes.
Once praised by President Trump for doing "an unbelievable job on the drug problem," Duterte launched his war last year.
Targeting drug pushers and users, the campaign has outraged human rights groups.
Squadrons of police patrol slums every night, their guns responsible for up to half the deaths.
An NBC News Correspondent in Manila, Bill Neely, reported: "The police say every one of the 4,000 victims they admit killing was armed and resisting arrest. Every one."
But critics want President Trump to speak out.
Philippines opposition senator Antonio Trillanes said: "President Trump, and therefore the US government, is giving Mr. Duterte a blessing. President Trump should call him out."
But that is "unlikely", says Duterte's spokesman, Harry Roque.
"He has expressed approval and I can't see why he will all of a sudden criticise it," he said.
The White House says if President Trump does talk human rights with Duterte, he will do it quietly.
But that is unlikely to end the Philippines' bursting jails or to stop its deadly war on drugs.