Flight MH370's disappearance an 'almost inconceivable' mystery -report
Comments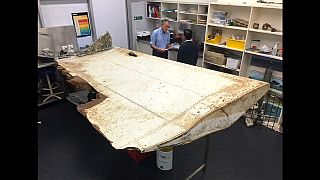 More than three and a half years after Malaysia Airlines flight MH370 vanished with 239 people on board, officials admitted on Tuesday they were no closer to understanding what happened to it.
In a 440-page final report, the Australian Transport Safety Bureau called the continuing mystery "almost inconceivable."
"Our deepest sympathies remain with those who lost their lives on board MH370 and for those that have continued to suffer at their loss," said Australian Transport Safety Bureau Chief Commissioner Greg Hood.
"This is one of the world's greatest tragedies, and we so wish that we had been able to recover this aircraft and those that lost their lives on board."
Only three fragments of the flight have been found washed up on western Indian Ocean shores and search efforts were abandoned in January.
Investigators have only managed to narrow down the plane's possible location to a 25,000-square kilometer patch of ocean.
The Boeing 777 carrying 227 passengers and 12 crew disappeared early into its flight from Kuala Lumpur to Beijing on March 8, 2014.
The reasons for the loss of MH370 cannot be established with certainty until the aircraft is found," the ATSB said in its report.
"It is almost inconceivable and certainly societally unacceptable in the modern aviation era… for a large commercial aircraft to be missing and for the world not to know with certainty what became of the aircraft and those on board," it conceded.