An amazing exhibition has opened in the Belgian capital to honour twin anniversaries of two of the country's icons: the Atomium, which turns 60 next year, and painter Rene Magritte, who died 50 years ago.
A spokesperson for the Brussels's iconic monument, Yvonne Boodts, said the combination of the two should make the exhibition a success among both locals and foreigners, although she said there was no proof the painter ever visited the atom-shaped monument.
Fabulous #magritte exhibition at #atomium Brussels 🍏"Ceci n'est pas une pomme." pic.twitter.com/Qm4sEEn2fD

— eeva (@EevaTella) 24 septembre 2017
The interactive exhibition, which took ten days to assemble, will run for a year and occupies two levels of the gleaming metal structure built in the form of a crystal of iron and which has become a symbol of the capital since being built for the World's Fair of 1958, known as Expo58.
"I think this is a very beautiful exhibition. Magritte is an excellent artist and the way he links surrealism and realism is very interesting. This is something special. What is also nice is that it's set in the Atomium. Another special thing is that it (Brussels) is the place where he has lived for much of his life. I find it very special to see this exhibition here." said Eline Joos, a 18-year-old belgian student.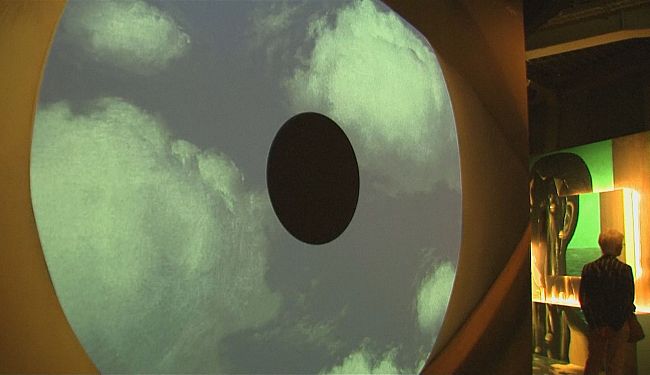 It transforms 10 of Magritte's most notable works into 3D structures and visual elements featuring many of the surrealist painter's leitmotivs for visitors to explore. They include bowler hats, white clouds and green apples.
Magritte spent most of his life in Brussels, where he gained success for his philosophical paintings between the 1930s and 1960s before his death in 1967
The exhibition Magritte. Atomium Meets Surrealism will run until September 2018.