Power cut in Puerto Rico as Hurricane Maria roars through the Caribbean
Comments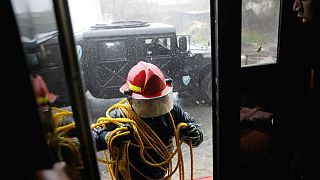 Hurricane Maria with winds of 225 km per hour has rampaged across Puerto Rico knocking out power for the entire island.
There is widespread structural damage and flooding, with the added danger of downed power lines.
Officials say it could take as long as four months to restore electricity to all of Puerto Rico's 3.5 million residents.
Puerto Rico being hit hard by new monster Hurricane. Be careful, our hearts are with you- will be there to help!

— Donald J. Trump (@realDonaldTrump) September 20, 2017
My prayers and thoughts are with the people of Mexico City & Puerto Rico today and everyday. Devastating news to read!! Heartbreaking

— Sam Smith (@samsmithworld) September 20, 2017
The storm, which is the strongest to hit the US territory in nearly 90 years (Category 4 when it made landfall) has already killed at least nine people as it roared through the Caribbean.
Before reaching Puerto Rico Maria had hit the US Virgin Islands and Guadeloupe. Martinique was spared severe damage but lost power.The island of Dominica which was devastated earlier in the week and where seven people died, is said to be "dazed" by the ferocity of the storm.
Meanwhile the Dominican Republic is has closed most of its ports as it braces itself for Maria's arrival which has weakened to a category two storm. The country's oil refinery is still running having briefly closed earlier this month due to Hurricane Irma.