Humour in face of horror as Britons mock ISIL
Comments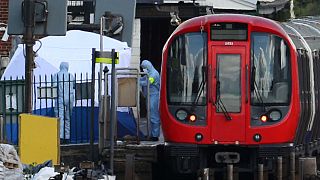 Britons turned to humour to mock ISIL over its alleged involvement in Friday's attempted bomb attack on the London Underground.
It was based around the readiness of self-styled Islamic State to claim responsibility for something that failed in its original goal of causing maximum loss of life.
Internauts took to Twitter to come up with other random failings in everyday life that the terrorist group could put their hands up for, using the hashtag #ThingsIslamicStateShouldClaim
The most popular tweets including suggesting ISIL take responsibility for excessive plastic packaging; unreliable railways; and making some biscuits too big to be able to be dunked in a mug of tea.
It is not the first time Britons have reacted to the horrors of terrorism with humour – they also did in May after the London Bridge attacks.
That first sip of a hot drink that burns your mouth and ruins your taste buds for the rest of the day. #ThingsIslamicStateShouldClaim

— Stephen James (@SteJames88) September 16, 2017
Southern Rail – the most successful attack on our railways ever #southernFail#ThingsIslamicStateShouldClaim

— Claire △⃒⃘ (@clairemacckyd) September 16, 2017
Making Digestives too big to dunk without taking a stupid little nibble out of two sides #ThingsIslamicStateShouldClaim

— Paul Maxwell (@pauly__maxwell) September 16, 2017
That they are behind every explosion that occurs when you open a yoghurt a little too enthusiastically #ThingsIslamicStateShouldClaim

— Robert Breeze (@robertbreeze) September 15, 2017
Making the end of the sellotape impossible to find #ThingsIslamicStateShouldClaim

— jenny brown (@jennybrown26) September 15, 2017
That gross watery bit when you forget to shake the ketchup #ThingsIslamicStateShouldClaim

— Sansomite (@BornInRednWhite) September 15, 2017
Needing scissors to open this packaging… #ThingsIslamicStateShouldClaimpic.twitter.com/Eoj0CSzfp2

— Kerry Fisher ♏ (@kerryfisher1111) September 16, 2017
10,000 spoons when all you need is a knife #ThingsIslamicStateShouldClaim

— Simonge (@Simonjenkin) September 16, 2017
#ThingsIslamicStateShouldClaim SouthWest Trains (now South West Rails, but just as awful)

— Mª del Mar Illescas (@mar_illescas) September 16, 2017