Pope Francis holds mass for Colombia reconciliation
Comments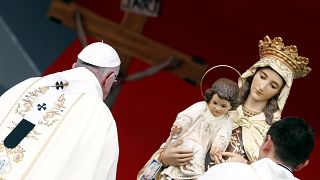 Pope Francis continued his tour of Colombia with a mass in the central city of Villavicencio – once at the heart of the country's five decade long civil war.
Speaking to a crowd of thousands, many of whom lost loved ones to the violence, Francis said peace would fail without reconciliation.
"Reconciliation is not an abstract word; if that were so, it would only bring sterility, more distance," Francis told the congregation. "To reconcile is to open a door to each and every one of the people who have lived the dramatic reality of the conflict."
Reconciliation is consolidated by the contribution of all. It enables us to build the future and makes hope grow.

— Pope Francis (@Pontifex) September 8, 2017
Colombia's leftist rebels turned over their weapons in June after signing a peace accord with the government of President Juan Manuel Santos in November but the years of war have left the country deeply divided.
Former leader of the Marxist FARC rebels, Rodrigo Londono, wrote an open letter to the Pope asking for forgiveness "for any tears or pain" his group may have caused the people of Colombia.
"Your repeated expressions about God's infinite mercy move me to plead your forgiveness for any tears or pain that we have caused the people of Colombia," Londono wrote.
As many as 220,000 people were killed and millions displaced during a war that pitted leftist rebel groups against right-wing paramilitaries and government troops.
Francis now heads to Medellin and Cartagena before returning to Rome on Sunday.