Van attacks in Barcelona and Cambrils linked to blast in Alcanar
Comments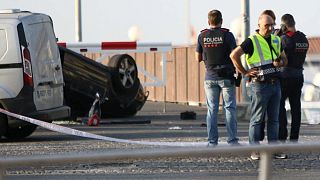 Authorities in the Spanish resort of Cambrils are continuing a sweeping anti-terror operation after a night of mayhem and bloodshed.
In the early hours of Friday morning, police in the seaside town killed five men suspected of planning a van attack similar to an earlier one in Barcelona. It appears the assailants had tried to replicate the Barcelona attack by driving into a group of people.
Six civilians and one policeman were injured in the incident in Cambrils, which lies 120 kilometres south of Barcelona. Police said the attackers were wearing explosive vests that were later found to be fake.
THANKYOU for your collaboration in #Barcelona, #Cambrils and roads from #Catalonia. We work for your safety. GRACIAS x vuestra colaboración

— Mossos (@mossos) August 18, 2017
Authorities are now looking at links between the two van attacks and an explosion at a house in Alcanar, another coastal town in Catalonia. The blast happened early on Thursday morning, killed one woman and injuring a man. The explosion was initially blamed on a gas leak but police now say it might have been caused by a homemade bomb.
The so-called Islamic State has claimed responsibility for the Barcelona attack. Three people have been arrested in connection with the incident but the driver of the van is still at large.