UK seeks interim EU customs deal to avoid Brexit trade chaos
Comments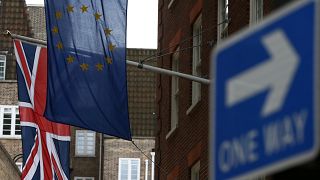 The British government is proposing an interim customs agreement with the European Union after Brexit to allow trade to continue as freely as possible once the UK leaves the EU.
The Brexit Minister David Davis says that under the offer outlined in a new UK policy document, existing customs arrangements would broadly stay in place during an interim period.
The UK has said it will leave the EU's Customs Union – its tariff-free trading area – and the Single Market when its membership of the bloc ends in March 2019. There have been fears that without a deal on future arrangements, chaos could ensue at British ports.
Today's customs paper sets out our offer for our new customs relationship with the EU pic.twitter.com/TMKlLvm2Xe

— Exiting the EU Dept (@DExEUgov) August 15, 2017
In an article for Citya.m., David Davis summarised the steps towards delivering "ambitious new customs arrangements with the EU". The policy paper duly outlines two possible approaches: a "highly streamlined customs arrangement" building on existing systems but with innovative measures, and a second option of a "new customs partnership" which would remove the need for a UK-EU customs border and in the minister's words would be "entirely novel and therefore untested".
Any transitional period would most likely last for two years but possibly slightly less, Davis has said, and must be over by the time of the UK's next scheduled general election in 2022.
In interviews on Tuesday, Davis would not be drawn on whether Britain would pay the EU for a temporary customs deal, saying he would not negotiate on air, although he did tell ITV "no, I don't think so".
Businesses have long called for clarity over the UK's future relationship with the EU, and the main employers' organisation the CBI said it was encouraged by the government's proposal. The Institute of Directors said there would be a "great sigh of relief" among UK businesses.
Read the CBItweets</a> response to the Customs Union partnerships papers <a href="https://t.co/K2WPVQ48Rv">https://t.co/K2WPVQ48Rv</a></p>— The CBI (CBItweets) August 15, 2017
Brussels' position from the outset has been that the UK's divorce settlement – the so-called exit bill, as well as citizens' rights and the future of the Irish border – must be sorted before future trade arrangements can be negotiated.
The European Union has said it will study the proposals carefully but will only consider the question of an implementation period once sufficient progress has been made on Britain's withdrawal. The Commission's chief Brexit negotiator Michel Barnier emphasised these priorities in a new tweet coinciding with the publication of the UK's policy paper.
The quicker #UK & EU27 agree on citizens, settling accounts and #Ireland, the quicker we can discuss customs & future relationship.

— Michel Barnier (@MichelBarnier) August 15, 2017
The EU has always warned that Britain cannot "cherry-pick" the advantages of EU membership which involve accepting the union's main principles. Under the rules of the Customs Union, members trade without customs impositions and charge the same tariffs on imports – and cannot negotiate their own trade deals outside the EU. One of the UK's key Brexit objectives is to be free to pursue its own trade deals.
The European Parliament's Brexit coordinator Guy Verhofstadt tweeted to imply that Britain's proposals were a "fantasy", interpreting them as an attempt to be both in and out of the Customs Union.
To be in & out of the Customs Union & "invisible borders" is a fantasy. First need to secure citizens rights & a financial settlement

— Guy Verhofstadt (@GuyVerhofstadt) August 15, 2017
Earlier, former EU Trade Commissioner Karel De Gucht described the proposals as "very problematic", suggesting that the EU may only accept similar customs arrangements for several years on its terms – which would mean the UK paying contributions and abiding by decisions of the European Court of Justice.
UK opposition figures have also criticised the government's proposals. Labour's shadow Brexit secretary Keir Starmer said they were "incoherent and inadequate", "fantastical and contradictory".
Latest inadequate proposals on customs arrangements are designed to gloss over Cabinet divisions Keir_Starmer</a> <a href="https://t.co/2rxAA3XWgx">https://t.co/2rxAA3XWgx</a></p>— Labour Press Team (labourpress) August 14, 2017
Scotland's First Minister Nicola Sturgeon tweeted that the UK government had returned to its "daft 'have cake and eat it' approach to Brexit".
Seems UK gov is back to its daft 'have cake and eat it' approach to #Brexit. They should commit to staying in single market and CU, period.

— Nicola Sturgeon (@NicolaSturgeon) August 15, 2017
Theresa May's government has promised to publish a series of policy documents on Brexit this week, ahead of the resumption of negotiations with Brussels later this month.