Trump gets tough with China and orders trade inquiry
Comments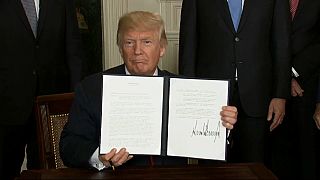 President Donald Trump has signed a presidential memorandum that is irritating the Chinese.
It will review Chinese trade practices, and invokes a rarely-used legal mechanism that could give the president the power to retaliate and focused on the theft and appropriation of intellectual property, a bilateral bugbear.
"The theft of intellectual property by foreign countries costs our nation millions of jobs and billions and billions dollars for each and every year. For too long this wealth has been drained from our country while Washington has done nothing," said Trump.
The investigation will be under the terms of Section 301 of the Trade Act of 1974. This was a popular tool during the Reagan and Clinton administrations that hasn't been used since 2010.
America's tech giants in particular have suffered from copyright infringements of software, for examp