Kasparov makes a comeback - for now
Comments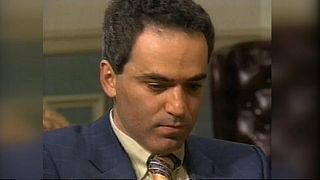 After 12 years in retirement, chess grandmaster Garry Kasparov is making a comeback – but only for five days.
The Russian chess legend is one of four wildcard picks at the St Louis Rapid and Blitz tournament, where the world's best players compete for a prize fund of $150,000 in prize money.
Don't bury me just yet! "Half of his opponents had not even been born when he first became world champion in 1985." https://t.co/EAQJ5EqdhK

— Garry Kasparov (@Kasparov63) August 13, 2017
Kasparov dominated international chess for almost three decades, starting with a win at the Soviet Junior Championship in 1976. Twenty-one years later, he was beaten by IBM's Deep Blue supercomputer – a milestone for artificial intelligence.
Since retiring in 2005, Kasparov has worked to promote democracy in Russia and is an outspoken critic of President Vladimir Putin.
Kasparov says he will donate any winnings this week to his latest passion – promoting chess in Africa.