Gaining ground in Raqqa - US backed Syrian forces surround Islamic State fighters in push to take back the city
Comments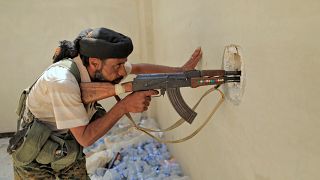 US-backed forces have Islamic State fighters surrounded in central Raqqa, but driving the militants out could take months.
"We've cleared about half of Old Raqqa, and we're advancing on all axes," said Haval Gabar, a 25-year-old commander from the Kurdish YPG militia who is directing the assault on the Old City front in Islamic State's Syrian stronghold.
Units of the Syrian Democratic Forces, an alliance dominated by the YPG, joined forces in Raqqa's southern districts on Tuesday, surrounding the militants in the city centre.
"We are now pressing towards Mansour and Rashid districts," said Gabar.
As he spoke, the sound of machine gun fire barked over his walkie-talkie while air strikes staged by the US-led coalition slammed into targets nearby.
The SDF, backed by the air strikes and coalition special forces, have been fighting since June to clear Islamic State from Raqqa city, its de facto Syrian capital.
A separate campaign drove the group from its Iraqi stronghold of Mosul last month.
However, the multi-phased Raqqa offensive began already in November, capturing surrounding towns and villages, encircling the city and cutting off Islamic State from the north, east and west.
But the advances are proceeding cautiously, officials say. Initial predictions by the YPG that the Raqqa battle would be over in a matter of weeks were wrong.
"It could take another three to four months to finish Raqqa," Gabar said.
Meanwhile, Syrians who have fled the embattled city say conditions are dire. At a camp for the displaced in the village of Ain Issa north of Raqqa, they're receiving bread and water, but it's not enough to see them through the extreme heat.
A handful of civilians are able to escape the city each day. According to the UN, up to 50,000 civilians remain trapped.