Italian firefighters arrested on suspicion of arson
Comments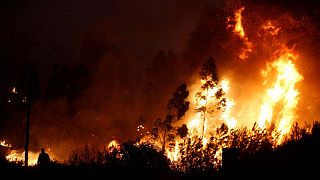 Fifteen volunteer firefighters were today (August 7) arrested in Sicily for allegedly starting fires to earn commission from putting them out.
Members of the response team in the southeastern town of Ragusa also purportedly made fake emergency calls to earn a stipend for responding to them.
The volunteers either made the calls from their own phones or asked family members to report the fires.
They received a 10-euro hourly rate for going out to deal with the emergencies.
Suspicions were raised when the group responded to 120 incidents in a period when other units were called out to 40, police said.
The authorities also confirmed in a statement that the ringleader was considered dangerous and placed under house arrest when he continued to start fires even after other volunteers had stopped.
"He (the ringleader) demonstrated a sharp criminal ability and had no fear of the consequences of his behaviour," the statement said.
"On one occasion, he even said he wanted to set off a bomb so as to take the money available if the emergency vehicles needed to be repaired," it continued, referencing a recorded conversation.
All members of the group are being probed for alleged fraud, while some are also under investigation for arson.