Portuguese wildfires: report from Pedrogao Grande
Comments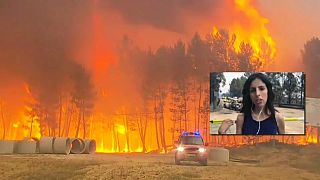 Filipa Soares from Euronews' Portuguese service was in the area where the fires have been raging. She filed this report on Sunday (June 18).
"We just arrived to Pedrogao Grande, in the district of Leiria, where dozens of people have died in the huge fire. Behind me we can still can see cars completely burned-out on the roadside. Dozens of people died while trying to escape from their vehicles.
"I passed through a dense cloud of smoke on the way here. For more than 30 kilometers, there was smoke everywhere. I also saw a firefighting plane trying to get closer to the flames and a helicopter battling to put out the fire.
"The aircraft were sent from France and Spain, but they have been struggling getting close because of poor visibility.
"Earlier, I spoke with members of the police and forensic trams that have been gathering evidence from some of the cars. Some of them told me they were still recovering bodies from the vehicles."
At least 19 people dead in #fire in #Portugal. Authorities fear the number of victims can increase. There are villages totally destroyed.

— Filipa Soares (@filipasoares) June 18, 2017