Bill Cosby trial ends in no verdict
Comments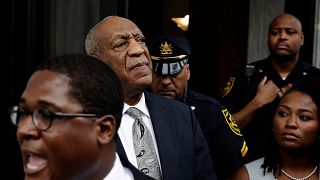 Bill Cosby's trial on sexual assault charges in the United States has ended without a verdict after jurors failed to reach a unanimous decision.
Cosby's cosy family image, which was generated by the long running TV series the Cosby Show, has been destroyed by it.
The comedian's career and good-guy image were already in tatters by the time his chief accuser took the stand.
She described how Cosby gave her pills and then penetrated her with his fingers as she lay paralyzed on a couch, unable to tell him to stop.
The jury deliberated for 52 hours before the judge declared a mistrial and afterwards prosecutors said they would seek a re-trial.
Cosby remains charged with three counts of aggravated indecent assault.
The mistrial was a blow to the dozens of women who have said they were sexually assaulted by Cosby, including several who attended the trial wearing buttons that read "We Stand in
Truth."