Grief, hope and anger from families of missing loved ones
Comments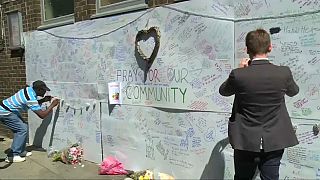 Impromptu tributes have appeared in the shadow of the charred Grenfell Tower with photos of missing people, messages of condolence, flowers and candles.
"I'm really angry about what's happened," said receptionist Samira Jama who was helping her sister collect belongings from an apartment behind the cordon.
"Hundreds of people still aren't accounted for – what happened to them? Every person in a position of power has to answer questions about this."
The UK Communities Secretary said it's very important that there was a public inquiry to find out the cause of the fire.
"It's very important that the victims, their families, their friends, that they are involved in that, that they get proper legal representation, they get help with that," said Sajid Javid.
"I think that's going to be important. But also, it is very important that we draw some very quick conclusions."
Volunteers, overwhelmed with donations, say they are no longer able to cope with the volume of items from well wishers.
Messages of hope, grief and anger all drawn and scribbed onto this wall in the shadow of #GrenfellTowerLBC</a> <a href="https://t.co/VRHXAt80ws">pic.twitter.com/VRHXAt80ws</a></p>— Rachael Venables (rachaelvenables) June 16, 2017
Heartbreaking. Sawsan lived on one of the top floors of Grenfell Tower. Her mum, sister, nieces and brother-in-law are all missing LBC</a> <a href="https://t.co/qOLNnIbaol">pic.twitter.com/qOLNnIbaol</a></p>— Rachael Venables (rachaelvenables) June 16, 2017