Notre Dame Paris terror attack suspect to be charged
Comments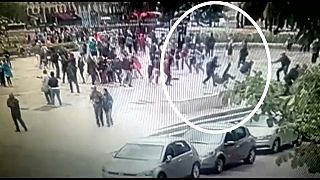 The hammer-wielding man suspected of attacking police officers patrolling outside Notre Dame Cathedral is being charged. Paris prosecutor François Molins told reporters on Sunday (June 10) that the man stands accused of attempted murder in connection with a terrorist enterprise. The 40-year-old Algerian suspect was not previously known to police and intelligence services.
"He evoked a solitary radicalization processes through Internet, and a written allegiance and filmed one at his home, excluding all contacts with anyone," said François Molins, Paris Prosecutor, adding that the man made the decision to act a few days before, and left his home the morning of June 6 with this intention."
The man reportedly shouted "This is for Syria" during the incident, which happened just two days after the London Bridge terror attack. The suspect was shot by police.
Molins hasn't identified him by name, however he described him as a former journalist who has been legally resident in France.