Trump vs Comey: more questions than answers?
Comments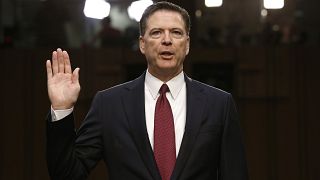 President Donald Trump survived one of the biggest threats to his presidency when Thursday's hugely-awaited congressional testimony by the FBI chief he fired did not yield any explosive new disclosures about his campaign's alleged ties with Russia.
However, former FBI Director James Comey's remarks to a packed hearing of the Senate Intelligence Committee left the Republican president far from unscathed.
Comey recounted in vivid detail conversations with Trump that he viewed as an effort to undermine an investigation of possible collusion between the Trump campaign and Russia.
He also said Trump's comments after firing him on May 9 that the FBI was in disarray and its members had lost confidence in Comey were "lies, plain and simple."
Analysts say Comey handed Trump and his supporters some fresh ammunition when he confirmed he had told the president the investigation was not focused on him personally.
A Republican close to Trump said the president felt very good about Comey's statement that the former FBI director had told him he was not under investigation.
Russia has denied interference in last year's presidential campaign. The White House has denied any collusion with Moscow.
Trump could face even more problems over the coming months if the stream of details leaking out about the Russia investigation continues to grab the spotlight at a time when the White House wants to focus on priorities such as rolling back Obamacare healthcare law and overhauling the tax code.