Tourist attacked after trying to take photo with cow
Comments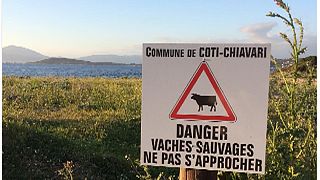 A tourist was hospitalised after trying to take a photo with a cow on a Corsican beach, officials have revealed.
She suffered a large wound to the face – which required stitches – and damaged some teeth in the attack, south of the capital Ajaccio, according to local media.
The incident highlights a long-standing problem in the area – a herd of wild cows who return to Mare e Sole beach each summer.
There was around 30 of the cows at the beach on Saturday, according to reports, which is one of Corsica's most beautiful.
"It's been the case for 40 years, they are very numerous from spring until the end of the summer, it's a real problem," said Jean-Baptiste Luccioni, mayor of Pietrosella.
"On Saturday, on our beach at Coti-Chiavari, a female tourist wanted to take a photo with a cow who did not appreciate the advance. She suffered a wound to the face, which required stitches at hospital. Fortunately, it was nothing serious.
"The cows only attack when they feel danger. It is complicated to get rid of them, the only way would be to kill them, which is not desirable. As a result we do a lot of educational work with the public."