Macron victory heralds new political era in France
Comments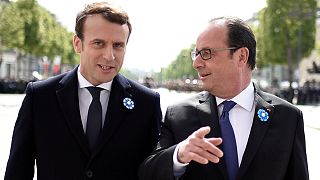 France's incoming and outgoing presidents attended a solemn ceremony in Paris on Monday, commemorating the end of World War Two in Europe.
Emmanuel Macron stood side by side with Francois Hollande at the Arc de Triomphe where they laid a wreath on the tomb of the Unknown Soldier, marking VE Day.
Centrist Macron who served in Hollande's government, won an emphatic victory over the far-right's Marine Le Pen in Sunday's election.
At 39, the centrist will now become France's youngest leader since Napoleon.
Outgoing French President Francois Hollande and his successor Emmanuel Macron attend VE Day ceremony at Paris's Arc de Triomphe pic.twitter.com/txWuKPOcmW

— AFP news agency (@AFP) May 8, 2017
"It was a very difficult and violent campaign." said Gilberte, an elderly woman in Paris.
"I didn't like it the whole way through…but I am happy with the result because we blocked the Front National and that is was mattered to me. I didn't want the country run by extremists. Now when it comes to Mr Macron's plans, …I don't know…between what he says and what he will do."
Paris voter Etienne Doutreleau, however, gave the thumbs down to the former investment banker's victory.
"High finance has won," he said.
"We have someone who is going to break up society. Tomorrow we could see part of the population getting poorer.
"Tactical voting was a con trick. It made hostages of us."
What the centrist Macron's victory in the presidential vote means for France, Europe and the world https://t.co/uCFrUwQHWspic.twitter.com/DzEUFNUKlw

— POLITICO (@politico) May 8, 2017
Macron won with over 66 percent, although many did vote tactically to keep Le Pen out. A quarter of voters stayed away from the polls and more than 4 million people spoiled their ballot papers.
Our correspondent in Paris, Olivier Péguy, said
"Now that we know the name of the next tenant of the Elysée Palace, all eyes are turning to the Bourbon Palace – home to the National Assembly. Who will fill its seats? Will Emmanuel Macron have a majority to govern? We will know in a month's time after the parliamentary elections. Before then, a new political campaign is beginning."