Rescuers picked up 560 migrants from unsafe boats off the coast of Libya on Thursday (May 4), including the body of a young man who the migrants said had been shot by smugglers on the beach for his baseball cap.
Italian Navy and Coast Guard boats participated in the rescues together with two humanitarian vessels.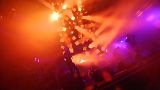 The French city of Lyon's "Nuit Sonores" electronica festival has kicked off for its 15th edition.