Protesters scuffled with police in South Korea's Seongju county on Sunday as they tried to prevent US Army oil lorries from entering the site where the Terminal High-Altitude Area Defence system (THAAD) is currently being installed.
Scuffles between the 300 residents of the village and some 800 police broke out when some people staged a sit-in in a car, blocking the road.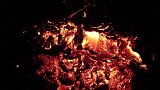 Time-lapse video captured lava oozing from Kilauea Volcano in Hawaii on Friday (19 May).