Somaliland on the brink of famine, warn NGOs
Comments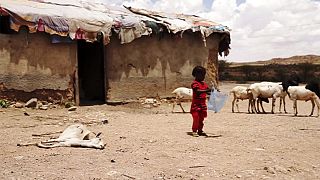 Over 80 percent of livestock has disappeared from several areas of Somaliland: killed by a drought which has hit the autonomous region in northern Somalia.
Euronews met a group of internally displaced people (IDPs) in the west of Somaliland close to the Ethiopian border. Most had travelled hundreds of miles in their search for food and water.
"I came here because of the seriousness of the drought but the conditions here are the same. I came with 70 goats and sheep and now only six remain," explained Layla Abdi.
"Rural populations make up two thirds of the people acutely food insecure and needing life-saving assistance," explained Euronews correspondent Monica Pinna in Hargeisa. "This is why most of the newly displaced move towards urban areas. In Hargeisa 9,500 came between November and April. Some of them stopped here, in the camp of Digaale."
The camp opened in 2013 to assist the first drought refugees. Today it is home to more than a thousand families. About one hundred arrived over the past month.
"We give them some food, medical care, and we see how we can help them more, but we don't have any NGO support at the moment," Hassan Omar, Digaale community leader, told Euronews.
Ugaso Yasin, an Ethiopian woman, is among the newly displaced who have settled in the camp. She arrived a few weeks ago with other six other mothers and 12 children. They all live together.
"The situation is better here than where we come from, the only challenge we have now is water, as the tank has no water," Yasin told Euronews. "As long as we are still alive I don't think we can go back because we have nothing to go back to".
Young people are among the most vulnerable. According to the UN one million children are expected to suffer from acute malnutrition this year in Somalia.