People in North Carolina were paying attention to rising rivers Tuesday after storms gave the state its worst drenching since a damaging hurricane late last year.
The state's heaviest rainfall since Hurricane Matthew caused flooding in the state's capital, Raleigh, and downstream waters were rising along the Neuse River near Clayton and Smithfield and along the Tar River in Tarboro and Greenville.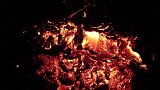 Time-lapse video captured lava oozing from Kilauea Volcano in Hawaii on Friday (19 May).