Russian soldiers held military exercises in Murmansk on Tuesday (25 April) in order to highlight the army's readiness to fight in severe weather conditions.
Colonel Ilia Pavlovsky, Commander of 80th Independent Motor Rifle Brigade, said this was the troop's fourth training session since its founding two and a half years ago.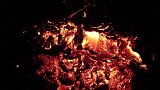 Time-lapse video captured lava oozing from Kilauea Volcano in Hawaii on Friday (19 May).